Christian D.F.
Asturias, 16/05/2009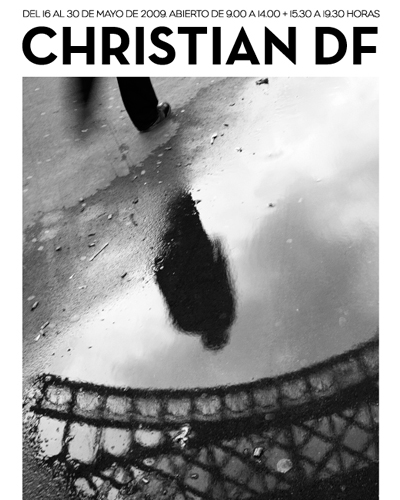 Inner World
"Las cosas que vemos son las mismas cosas que llevamos en nosotros. No hay más realidad que la que tenemos dentro. Por eso la mayoría de los seres humanos viven tan irrealmente; porque cree que las imágenes exteriores son la realidad y no permiten a su propio mundo interior manifestarse. Se puede ser muy feliz así, pero cuando se conoce lo otro, ya no se puede elegir el camino de la mayoría. "
H.H.
Estas fotos son un intento de mostrar ese mundo interior que antes de conocer la fotografía no sabía que existía. Una tormenta de pensamientos que pueden parecer inconexos pero que están llenos de sentido y sentimiento.
Esta exposición es sólo lo que veo, que es lo mismo que llevo dentro. Y cada uno lo verá desde su propia visión y creará su propia realidad, su mundo interior.
"The things we see are the same things that are in us. The only reality is the one we have in us. That's why most people's lives are so unreal, because they consider the external images to be real and don't allow their own world within themselves to tell them anything. They can be happy that way. But when a person once knows the other way, he is no longer free to choose the path that most people follow."
H.H.
These pictures attempt to show this Inner World that was unknown to me before working with Photography. A storm of thoughts that may appear unconnected but that are full of sense and feeling.
This exhibition is only what I see, which is the same I carry inside. Each one of you will see it from your own personal view. You will create your own reality. Your Inner World.